To make it easy to list new products, ecomdash created Global Listing Attributes. These attributes help reduce the amount of data you need to manually enter when listing a product to a new sales channel.
Global Listing Attributes consist of:
Listing Title

Short Description

Listing Description

Price

Condition

Ecomdash currently supports New and Used for global condition. If your sales channel requires a more specific condition, it will need to be set in the listing details section.
There are three ways to set your Global Listing Attributes.
1. Through a Listing Download

2. Within the Manage Listings section of the product details for an individual product
Navigate to

Products > All Products

.

Select

Actions > View

for the product you'd like to update.

Choose

Manage Listings

and enter the information you'd like to carry over to new listings.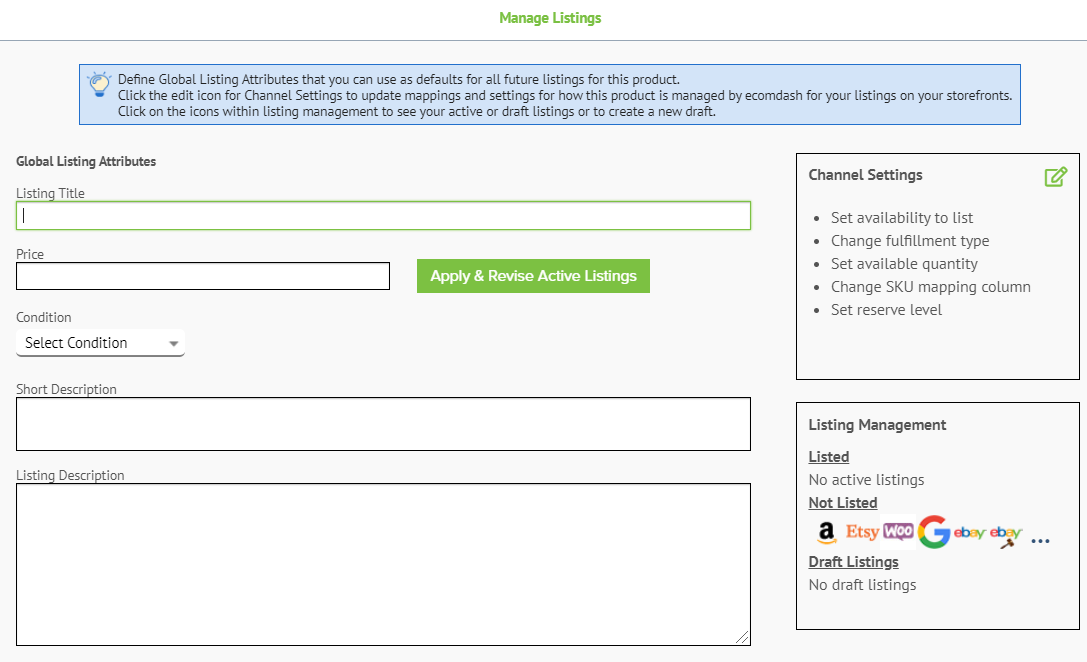 Please note, the Apply and Revise Active Listings option can only be used to update price on your sales channels.
3. In bulk with a File Upload
Within the

Add Attributes

section of your import format, you'll need to set

Global Attributes

from the first dropdown.


Please note, if no information exists as Global Listing Attributes for a product, you'll need to manually enter or use a file upload to assign the title, price, condition, and description when creating a new product listing for your sales channel.
If you need additional assistance, we're here to help. You can always -
Reach out to support@ecomdash.com.
Chat with a live agent within your ecomdash account.
Schedule a call with a product specialist - available to all pro plan users.