The first step in setting up your ecomdash account is to add your storefronts. In ecomdash, we refer to sales channels like Amazon and Shopify as storefronts. Once you've connected to a storefront, you can begin importing your products. If you already completed this step during the setup wizard process, feel free to skip to the next lesson.
To add a new storefront, you'll need to:
1. Navigate to Settings > Integrations & Tools.
2. In the Options section, choose View on the Storefront Setup tile.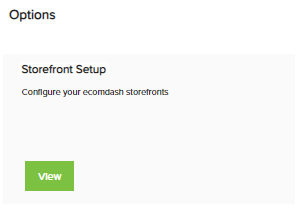 3. Select Add New and choose the Storefront you'd like to set up.


4. Follow the steps provided in the Storefront Details screen to complete the integration. These steps will vary depending on which sales channel you've chosen.

You can add new storefronts at any time and there's no limit to the number of sales channels you can have integrated.
If you need additional assistance, we're here to help. You can always -
Reach out to support@ecomdash.com.
Chat with a live agent within your ecomdash account.
Schedule a call with a product specialist - available to all pro plan users.