How to build a import/export format:
1. Navigate to Settings > Inventory Settings > Inventory Import OR Export Format depending on which type of format you need to create.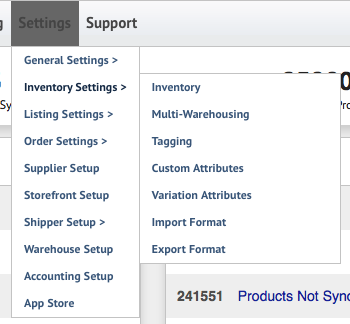 2. Click 'Add New'
Import Inventory 
For a video on how to build an import format, click here

Export Inventory
For a video on how to build an export format, click here

3. Give your format a name and choose 'Add'

4. Update the Basic Information
Storefront- the storefront drop down will allow you to update that storefront's listing attributes in ecomdash
Warehouse - the warehouse drop down will update inventory for that specific warehouse
5. Inventory File Integration - this check box should be selected if you are receiving inventory updates automatically. Once selected, you be able to define the integration type and timing.

6. Choose 'Add Attribute'. Using the format type selection dropdown, choose product and listing to view different attributes, create a format that matches your .CSV exactly. Find the attribute you would like to add and choose the green 'plus' button to add to your format. 
Product attributes are attributes at the product level such as name, quantity, warehouse ID, Supplier, etc. 
Listing attributes are attributes that are sales channel specific. If you change the storefront dropdown at the top of your import format, you can choose your storefront such as Amazon which will only show Amazon listing attributes in the listing attribute dropdown. 

7. Click 'Save' 
**Tips**
If you .CSV file contains SKU number, quantity, and name. You will find the attributes SKU number, quantity on hand and Name to add to your format. 
The column count of the file you are uploading must match the column count of the import format exactly. If your .CSV file contains 20 columns, you will need to have 20 columns on your format in ecomdash. If you cannot find an appropriate attribute within ecomdash, use the 'Ignore' attribute to skip over that column.

Inventory Import/Export Format previews can be generated in ecomdash. These previews will be useful when building your .csv for upload. Clicking 'Show Format Preview' on the import format details page will generate an on-screen pop up indicating how the file should be formatted.

-Clicking the Green Preview Icon on the Import/Export Formats page will download a template to your computer that you can fill out before re-uploading into ecomdash.

If you would like to add a custom Name, File Prefix, or File Extension to your export formats, you can add that information under the Integration Settings Section