Inventory Import/Export Formats operate as a set of instructions used by ecomdash when importing/exporting information in bulk. These formats are entirely customizable, so they can be be built to match your specifications. To build an Inventory Import or Export Format:
1. Navigate to Settings (Tool/Gear in the right hand corner) > Bulk Import/Export> make a selection depending on which type of format you need to create.
2. Click Add New
Import Inventory
For a video on how to build an import format, click here
In your import format, there is also a feature to select how to identify your products. You may select whichever option matches your file, or select rollover. Rollover will allow ecomdash to systematically search for a unique identifier. For example, the system may start the search on SKU, then move on to warehouse SKU, then warehouse SKU, then to another identifier until it either can match the identifier, or ecomdash will create a new product.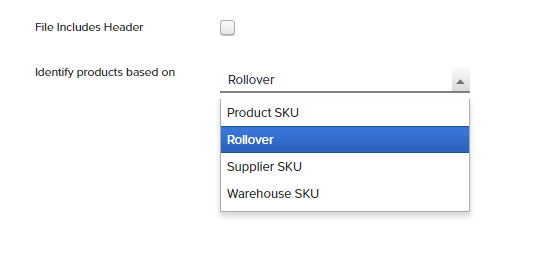 Export Inventory
For a video on how to build an export format, click here
3. Name your format, click Add.


4. Update the Basic Information
Storefront- When updating Listing Information, like Listing Title or Description, the selected Storefront will receive the listing updates.
Warehouse - When updating Inventory Information, like Warehouse Quantity or Bin, the selected Warehouse will receive the updates.
Exclude Quotes- Enabling this setting removes all quotations from files being exported. This can impacting the formatting of the file significantly. We do not recommend enabling this setting unless the recipient of the file requests quotations be removed.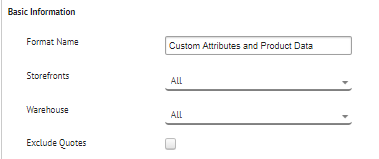 5. Select the Enable Inventory File Integration checkbox if this feed will automatically receive or send updates to an FTP site. Click here for more information on Automated Inventory Updates.

6. Select Add Attribute. Attributes tell ecomdash what information is included in each column of the file. Each column on the file being uploaded must be accounted for with a corresponding attribute. If the file being uploaded has 8 columns, the Import Format must have 8 attributes. Use the Search Bar in the upper right corner to easily locate specific attributes.
Each attribute falls into one of three Attribute Types:
Product attributes are attributes that impact a specific product such as Name, Warehouse Quantity, Supplier, etc.
Listing attributes impact Listings on a specific Storefront. Selecting a specific storefront in Step 4 will enable you to access attributes unique to that storefront such as eBay Business Policies, Etsy Shipping Templates, Walmart Tax Code, etc.
Global Attributes are used as defaults when expanding on to a new storefront and impact new listings on many storefronts. Examples include Global Listing Description, Global Price, or Global Sold as Name.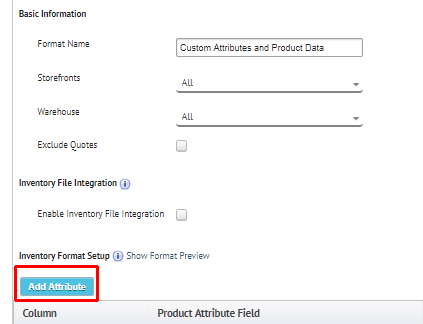 7. Click Save
8. Your Inventory Format has been completed. Click here if you are manually uploading a file for the next steps.
**Tips**
The column count of the file you are uploading must match the column count of the import format exactly. If your .CSV file contains 20 columns, you will need to have 20 columns on your format in ecomdash. If you cannot find an appropriate attribute within ecomdash, or are not concerned with importing a specific column, use the 'Ignore' attribute to skip over that column.

Inventory Import/Export Format previews can be generated in ecomdash. These previews will be useful when building your .csv for upload. Clicking 'Show Format Preview' on the import format details page will generate an on-screen pop up indicating how the file should be formatted.

-Clicking the Green Preview Icon on the Import/Export Formats page will download a template to your computer that you can fill out before re-uploading into ecomdash.