In ecomdash, you can upload new inventory or update your existing inventory by building an import format to match your file and uploading a .CSV file. 
To see this workflow in video format, click here
Part 1- Building an Import Format: 
1. Navigate to Settings > Inventory Settings 
2. Choose  "Import Format"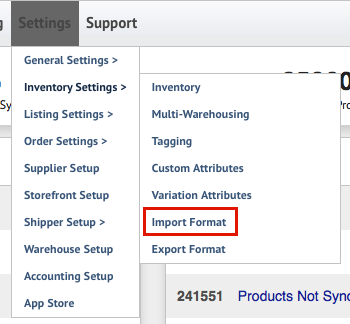 3. Click 'Add New Format' 
4. Give your import format a name and choose 'Add'

5. You will see two drop downs at the top of your format. One for Storefront and one for Warehouse. While not required for all inventory imports, many attributes can only be set for a specific storefront or with a specific warehouse defined. Make your selections as needed and click 'Save'
Note:
If you are uploading listing data, you must select the storefront that the data is in reference to from the storefront drop down menu.
6. Choose 'Add Attribute'. Using the format type selection dropdown, choose product and listing to view different attributes, create a format that matches your .CSV exactly. Find the attribute you would like to add and choose the green 'plus' button to add to your format. 
**Every format will need to have SKU Number**
7. Click 'Save' to save your format. 
For a video on how to create your import format, click here.
Additional Information: 
-If you are uploading quantities, you must select a warehouse from the drop down menu, save, and then use the Warehouse Quantity attribute in the format.
-If you are uploading listing attribute data, you must select the storefront that the data will be set for from the storefront drop down menu.
-If your .CSV file contains SKU number, quantity, and name. You will find the attributes SKU number, Warehouse Quantity and Name to add to your format. 
-The column count of the file being uploaded must match the import format in ecomdash exactly. If your .CSV file contains 20 columns, you will want to have 20 columns on your format in ecomdash. If you cannot find an attribute within our system, use the 'Ignore' attribute to skip over that column. 
-Headers on the file being uploaded are ignored by ecomdash. The header names do not have to correspond with ecomdash attributes.
-Inventory Import Format previews can be generated in ecomdash. These previews will be useful when building your .csv for upload. Clicking 'Show Format Preview' on the import format details page will generate an on-screen pop up indicating how the file should be formatted.

-Clicking the Green Preview Icon on the Import Formats page will download a template to your computer that you can fill out before re-uploading into ecomdash.

-The required attributes for new products in ecomdash are SKU Number, Name, and Warehouse Quantity.

-Pre-built Global Import Formats have the required attributes to list to various storefronts. Click here to learn more about our Global Inventory Formats
Part 2- Uploading a .csv File
 1. Once your format and file are complete, navigate to Inventory > Actions > Upload Inventory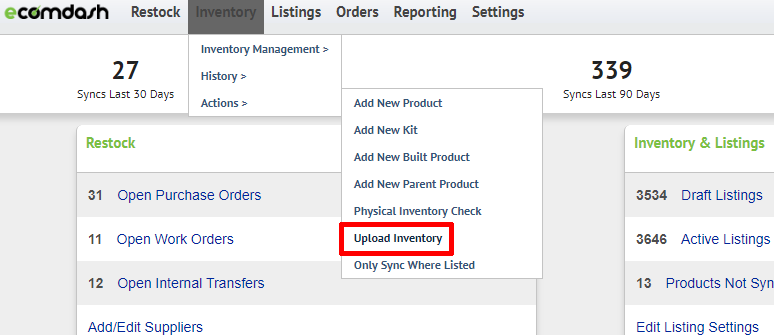 2. Choose your file, format, and additional settings.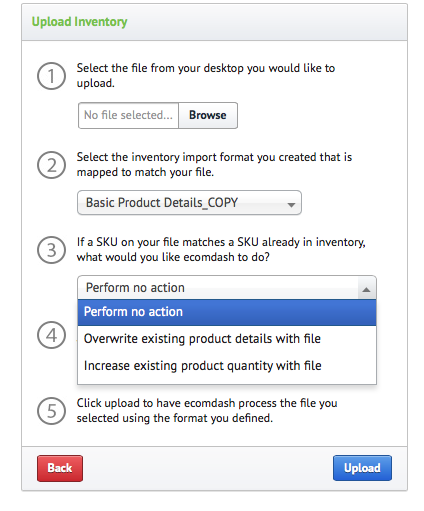 **If SKU matches existing inventory you want ecomdash to: 
-Perform no action: most commonly used when uploading new products within ecomdash. 
-Overwrite existing product details: most commonly used when adding more information to SKU numbers already in ecomdash. 
-Increase existing product quantity with file: most commonly used when adding more quantity to your products using the file. For example: if you have a quantity of 10 in ecomdash and you want to add 5 more using your file, you will choose to increase product quantity. This will then change the quantity in ecomdash to be 15. 
-Create new product if SKU does not match: If you have this checkbox checked, we will create a new product if we do not make a match on a SKU in ecomdash. If you do not want to add new products and just add more information to your products, we suggest making sure this checkbox is not checked. 

3. Click the blue 'Upload' button. 
4. To check the status of your upload, navigate to Inventory > History > Upload Inventory History