Ecomdash supports the ability to create, manage, and list variation products on many of our integrated storefronts. See this guide for more information on the Variation Listing Process. As part of this process, you'll need to create Parent/Child Relationships within ecomdash. this guide explains how to create these relationships in bulk.
Start by creating a .csv file that matches the image below;

You will then put your parent product SKU's in column "A". You can also create parent products using this file so if you do not have a parent you would like to use in your inventory already, simply put the new parent's SKU and Name in this file and we will create on for you.
Column "B" should have the corresponding Names of the Parent SKU's you have in column "A".
Column "C" should have the Child SKU that you wish to group under the Parent SKU you have in column "A".

If you want to assign multiple children to a Parent SKU, you will put the same Parent SKU in the next row under column "A" with the additional Child SKU in column "C". (See example below)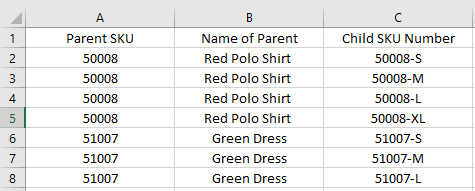 Once you file has been filled out with all the necessary information, save the file and choose the "Save as type" as CSV (Comma Delimited).
Now you will hover over Inventory in ecomdash and select Upload Inventory, see below;
Click Browse and choose the file you just saved.
Choose the "Bulk Parent-Variation Import Format" from the Inventory Import Format drop down menu
From the "If SKU matches existing inventory..." drop down choose the "Overwrite..." option
Make sure you have checked the box to "Create new product if SKU does not match".
Click the Upload button
Once the upload is complete, you can navigate to Inventory > Inventory Management and use the All Inventory drop down menu to see all your Parent Products which should include the products you just uploaded with a green plus icon next to it to see the children you assigned to it.