The Physical Inventory Check tool is designed to be used during periodic physical inventory checks in your warehouse.
To preform a Physical Inventory Check:
1. Navigate to Actions > Physical Inventory Check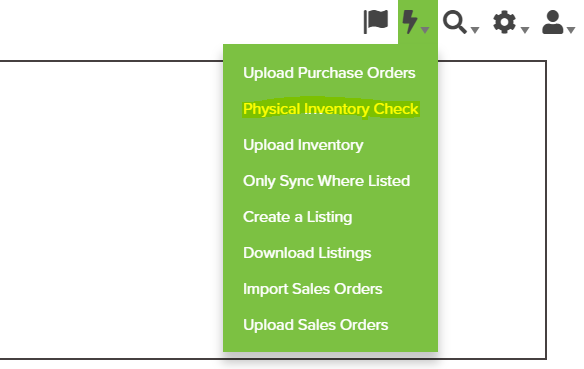 2. Select the Warehouse you are checking inventory for and click 'Begin'

When you begin the Inventory Check process, the following ecomdash services will be disabled to allow a proper inventory audit to take place:
Auto Import Sales Orders will be disabled for all integrated storefronts to prevent orders from reducing quantities
Inventory Import Feeds will be disabled to prevent quantities from being changed
Once you end the Inventory Check, these services will be turned back on and any orders placed during the check will now be imported, as will any inventory files set to be imported on a feed.
3. The Inventory Check Tool Displays Image, Name, and SKU for each product. Other information includes Total Quantity, Aisle, Bin, Quantity On Shelf, Committed Balance, Warehouse Quantity, and a section for adjustment comments. As you identify each product and verify the information, adjustments can be made as needed. Be sure to save your changes.
4. Once you have completed your Inventory Check, click 'End Check' at the top of the page.

This will re-enable your sales order imports and inventory feeds, returning ecomdash to normal function.