When selling on Amazon, handling time must be defined for each listing. In ecomdash, handling time is called "Shipping Lead Time" and can be edited within the product details page. Lead time to Ship is sent from ecomdash to Amazon on every inventory sync that occurs. If this field is not populated in ecomdash, Amazon will use the default Handling Time defined within your Seller Central Account.
To set a default Shipping Lead Time in ecomdash
Navigate to Settings (gear icon) > Storefront Setup
Click your Amazon storefront
Scroll to the bottom of the page and set a default value. This will not overwrite any values already set on a product-by-product basis and will only be used if a lead time has not been set for a product.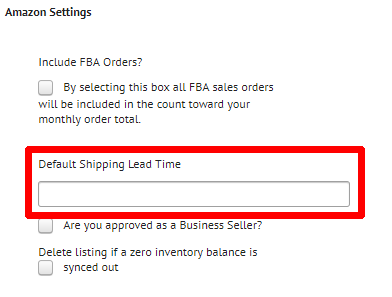 To set or edit Shipping Lead Time on a product-by-product basis
Navigate to Products > All Products

Access the Product Details Page
Scroll down to the shipping section of the product details page
Shipping Lead Time is found under the Shipping Information section

Shipping Lead Time can also be set in bulk using a csv file upload. Click here for more information on loading a csv file into ecomdash.