If you have Sales Orders coming in from a marketplace we are not currently integrated with, you can upload the sales orders into ecomdash using this process.
1. Navigate to Administration > Storefronts. Choose your Storefront and click into the details by clicking the binoculars icon.
• Check 'Setup non-integrated storefront' and click 'Save'
• Once you click 'Save', an 'Order Import' tab will appear


2. Select the 'Order Import' Tab
• Choose sales order fields by clicking the drop down menu
• Click 'Add Field' to add a field to your format
• Match each column in the file you are uploading exactly
• If your file reads (Customer Name, Bill to State, Bill to City), the attributes added in your format should read as (Customer Name, Bill to State, Bill to City). See the note at the bottom of the guide for required attributes.


3. Upload Sales Order File
• Navigate to Quick Links (Ecomdash Logo to the left of 'Restock')
• Choose 'Upload Sales Order'
• Choose your Storefront, select your Sales Order .csv file, click 'Upload'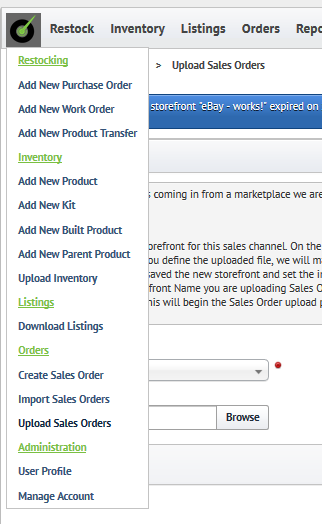 4. If necessary, navigate to Orders > History > Upload Sales Order History to check the upload status and troubleshoot common upload errors.
***Sales Order Upload Required Fields***

Import Order #

This is the order number that the storefront uses to differentiate incoming orders

Product SKU

This is the unique ID used to track the item. NOTE: This must match the SKU Number you have set for the product in ecomdash.

Product Title 

This is the storefront display name for the product. That is, what's shown on your storefront page as the title (or on the shelves in your store for a physical storefront)

Order Quantity

This tells ecomdash the quantity of a particular product that has been ordered.

ecomdash Status

This attribute tells ecomdash what stage of the order process the order is in 
Acceptable values: UNPAID, PAID, COMPLETE, CANCELLED