Yes, you can create a Purchase Order directly from the Low Inventory screen.

1.Navigate to Inventory > Low Inventory
2. Items will appear on this page if they have dropped below their product Reorder Level. Click here for a guide on setting your Reorder Level.
3. If you have set a Warehouse Reorder Level, you will need to use the Warehouse drop down menu to select which warehouse you want to see products that have dropped below that Warehouse Reorder Level.
4. Select the products you would like to create a Purchase Order for by checking the box next to them.
5. Click the 'Add New' button to add the products to the order.

6. You will then be taken to the Purchase Orders screen where you will be in a new PO that has the products already in it. You will simply need to select a Supplier and click 'Create'.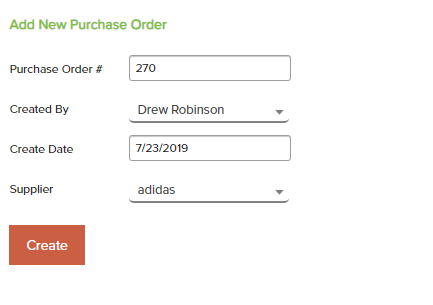 7. Once everything is filled out, you can Submit the PO so that you can either email or print the PO to give to your Supplier.