If you are using ecomdash and AppEagle and want to setup your integration here are the steps to get going:
1. First, navigate to Administration -> App Store -> Click on the 'All Available Apps' tab. Here is where you will subscribe to the free Appeagle app within ecomdash. Click the blue Info button and then click the Subscribe button.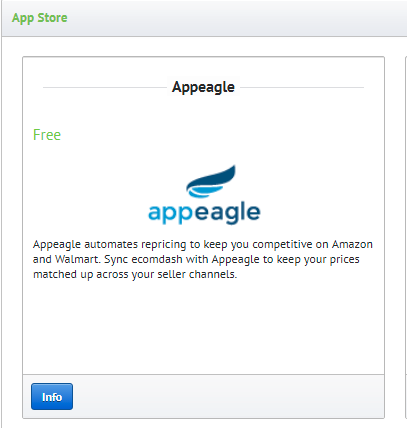 2. Once subscribed, you will see the app in your My Apps tab where you can launch it. Here is where you will need to input your FTP information so that we can communicate with Appeagle. If you do not have an FTP, please reach out to ecomdash support using the link in the bottom right corner of your screen and we would be happy to create one for you.

2. Now you need to go to Appeagle to also tell them the FTP site. Simply enter the same FTP URL you entered into ecomdash in the Settings section of Appeagle and they will automatically upload your changes based on the schedule that you specify.
3. Once you have entered your FTP information, navigate to  Administration -> Storefronts -> click into your storefront and you will see a 'Repricer' tab. Here is where you will enter the Appeagle Marketplace ID for each storefront.
4. The last step in setting up Appeagle in ecomdash would be at the product level. Navigate to inventory -> inventory management and click into a product using the binoculars icon you will see a new 'Repricer' tab for your products. Here is where you can enter the min and max values for your products.