Informed.co automates repricing to keep you competitive on Amazon and Walmart. Sync ecomdash with informed.co to keep your prices matched up across your seller channels. Before getting started, sign up with informed.co.
1. Navigate to Settings >Integration and Tools> App Store and locate the Informed.co App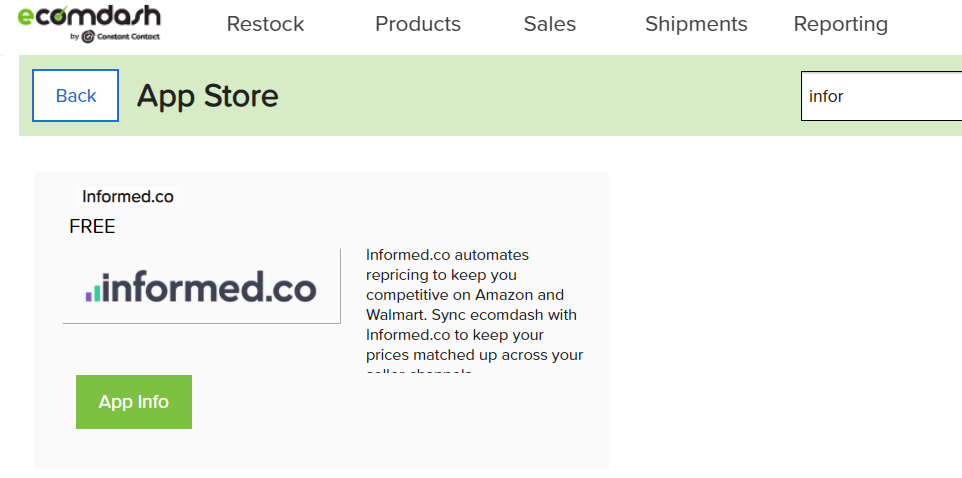 2. Click "Info" then "Subscribe" to install the Informed.co App
3. Enter the FTP URL you will be using for the Informed.co integration and select 'Enable Informed.co Integration'. If you do not have an FTP URL already, our Professional Services Team will be happy to create one for you. Follow the steps in this guide to request FTP Hosting.
4. Once you have entered your FTP information, navigate to Settings >Integrations and Tools> Storefront Setup > Click into your storefront and you will see a 'Repricer' tab. Here is where you will enter the Marketplace ID for each storefront. The Marketplace ID can be obtained from Informed.co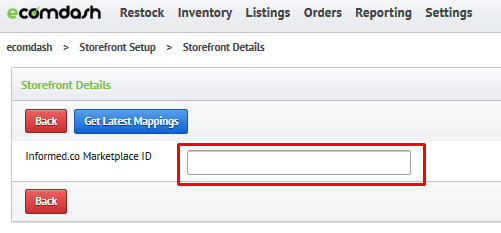 5. Navigate to Products>All Products and click into a product using the binoculars icon. You will see a new 'Repricer' tab for your products. Here, you can enter the Minimum and Maximum price values for your products.

6. Minimum and Maximum Price can be set in bulk using an inventory import. When building your inventory import format, use the attributes SKU Number, Informed.co Minimum Price, and Informed.co Maximum Price to define these values in bulk.
7. Ecomdash will share Pricing ranges with Informed.co and Informed.co will communicate directly with the storefronts for repricing purposes.