If you navigate to Reporting > Generate Reports, you will have access to all reports offered by ecomdash.

Here you can see all reports available to you as well a brief description and a image of what the report will look like, you will also see a drop down menu where you can quickly select a specific category or report.
Clicking Generate will take you to a page where you can define certain parameters you want the report to consider.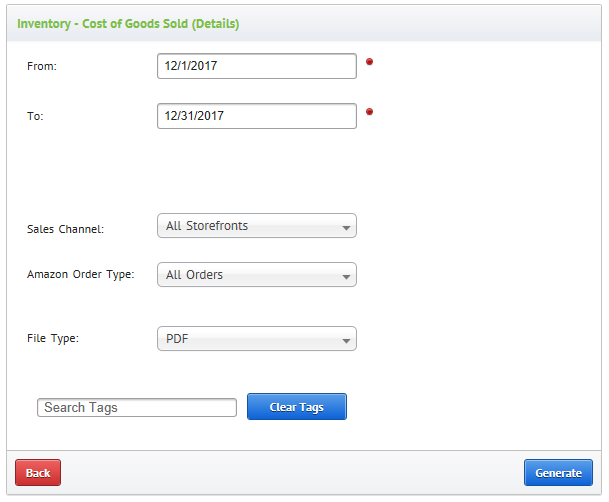 Below is a list of all the categories offered and the reports that are within these categories. Detailed descriptions and samples of each report can be seen by going to Reporting > Generate Reports. Ecomdash can export reports into PDF and Excel Files:
Accounting
Inventory- Cost of Goods Sold (Summary)

Inventory- Cost of Goods Sold (Detailed)

Inventory Valuation

State Tax by SKU

State Tax by Order

Per Order Profit Margins

Inventory Valuation

EOY Profitability Summary

EOY Inventory Valuation

Quarterly Sales Revenue

Total Profits Graph

Business Health Graph
Purchasing
PO Receipt Of Goods Detailed




Invoices Paid by Supplier

Invoices Outstanding by Supplier

Products Ordered Summary

Purchase Orders Export

Order Status Summary

Restock Forecast
Inventory
Kit Component




Product Costing

Movement Detail

New Low Inventory

Inventory Audit

New Inventory

Inventory Pick List

Built Product Component

Current Activity View

FBA Inventory Movement

Warehouse Inventory Valuation
Listings
Listings By Storefront

Active Or Unlisted Products

Listing Submissions
Sales
Sales Analysis

Sold Quantity FBA

Sales Within Date Range

Sales Trends

Stale Inventory Sales

Top Selling Items

Customer Information

Sales Cancelled

Sales Orders Export

Sales Orders By Status

Sales Orders By Storefront

Daily Sales

Monthly Sales

Monthly Sales Trends
Shipping
Order Shipment Details

Outstanding Unshipped Orders

Shipping Costs
If there is a particular report you would like to have, but is not currently available, you can let us know here