Adding Warehouse Cost for a SKU within ecomdash
Within ecomdash, you may add your cost for any SKU that is setup under a "dropship" warehouse. Below, we will walk through how to add warehouse cost SKU by SKU as well as in bulk through a .CSV upload.
Confirm your warehouse is setup as a "dropship" warehouse
Lets first confirm that your warehouse type is set to "dropship" so that the cost may be added to the SKU:
1. Find the warehouse setup page by navigating to Settings > Warehouse Settings > Warehouse Setup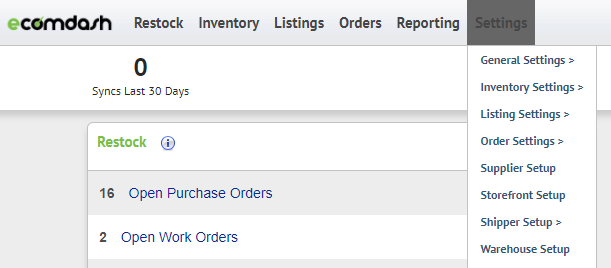 2. Click on the binoculars beside the warehouse to view the warehouse details
3. Navigate to the Warehouse Type drop down and confirm "Dropship" is selected
Dropship Warehouse- If you sell items that are housed off site by suppliers/vendors, you may set the warehouse up as a dropship warehouse. With the dropship warehouse setup, your supplier can pass over product quantity data on the front end of the sales cycle. After a sale is made, ecomdash can route the order over to the dropship warehouse for fulfillment. Once fulfilled, the dropship warehouse can provide ecomdash with tracking information that ecomdash will use to update the sales channel. With this option, you may add the cost for each product that the dropship warehouse provides which will be displayed within the product details of the SKU.
Add the warehouse cost for a SKU
To add the warehouse cost for a single SKU within ecomdash, simply follow the steps below:
1. Navigate to Inventory > Inventory Management
2. View the product details of the SKU by clicking the binoculars
3. Scroll to the bottom of the page to find the warehouse section, enter the cost of the item beside the dropship warehouse in the field.
4. Click the blue Save button
Adding warehouse cost to multiple SKUs in bulk
You will need to create an import format to match a .CSV file with the warehouse cost data. All you will need for this format is SKU number and warehouse cost. Below, we will walk through an example .CSV file as well as how to build the matching import format for that file, and how to upload the new data into ecomdash.
Example .CSV file date (make sure to save as a .CSV)
1. Navigate to Settings > Inventory Settings > Import Format
2. Click the blue Add New button
3. Enter the format name (Warehouse Cost - XXXXX is recommended with XXXXX being the name of your dropship warehouse) and click Add New
4. Choose your dropship warehouse from the warehouse drop down
5. Click the blue Save button
6. Click the blue Add Attribute button
7. Find SKU Number in the table and click the green plus sign beside SKU Number
8. Find Warehouse Cost in the table and click the green plus sign beside Warehouse Cost
9. Exit out of the data table pop up and click the blue Save button
***At this point, both your .CSV file and import formats are complete. It is very important to make sure your attributes within your ecomdash import format match your .CSV file. If SKU Number is in column 1 of your .CSV file, SKU Number must be attribute 1 in your import format. If SKU number happened to be in column 4 of your .CSV file, then the SKU Number attribute within ecomdash would need to be attribute 4. All import formats must have the same number of attributes as the matching .CSV file***
10. Now it's time to upload the Warehouse Cost .CSV file into ecomdash. Begin this process by navigating to Inventory > Upload Inventory
11. Select the .CSV file from your desktop that you wish to upload by clicking Browse
12. Select the Warehouse Cost Import Format that you created to match your .CSV file
13. Choose Overwrite Existing Product Details with file from the "If SKU matches..." drop down
14. Uncheck the "create new product if SKU does not match" checkbox
15. Click the blue Upload button